High Quality Products
Precision Industries, Inc. manufactures high quality stampings, welded assemblies, precision component sub-assemblies, and industrial tooling. Precision's customers include automotive, power tool, and electronics sectors, as well as many others.
Products Manufactured by Precision Industries, Inc.
Products manufactured at Precision Industries, span a wide variety of industries. Some of these include Automotive: seatbelt, airbag, and other safety components; Small hand tool: saw-bases for radial saws, tracking box for belt sanders; Electronics and Business Machines Sectors: parts for copiers, printers, electric panels, and various other industries.
When you partner with Precision Industries, you are partnering with the highest quality of product manufacturing services available in the market today. As a partner, your company can rest peacefully knowing that all of your products will arrive on time and built in strict accordance with your specifications.
Contact us today for a consultation.
Tool & Die Shop
Excellence in metal stampings is attained at Precision Industries using the highest quality dies built to proven design standards for progressive, single station, and compound dies.
Dies are designed and built for ease of maintenance and economical replacement of wear components with the aid of AutoCAD, Master cam & Striker programming, Wire EDM, CNC milling, and jig grinding.
Electronic sensors are used to monitor conditions in the die during production for the safety of the die and of our employee staff.
Precision Industries utilizes a fully equipped tool room - staffed with certified tool and die makers.
Dies and tooling components are also secured from qualified vendors under the guidance of Precision's tool engineering staff.
Precision Industries uses comprehensive, preventative die maintenance to insure dependable, long-term performance of all tooling.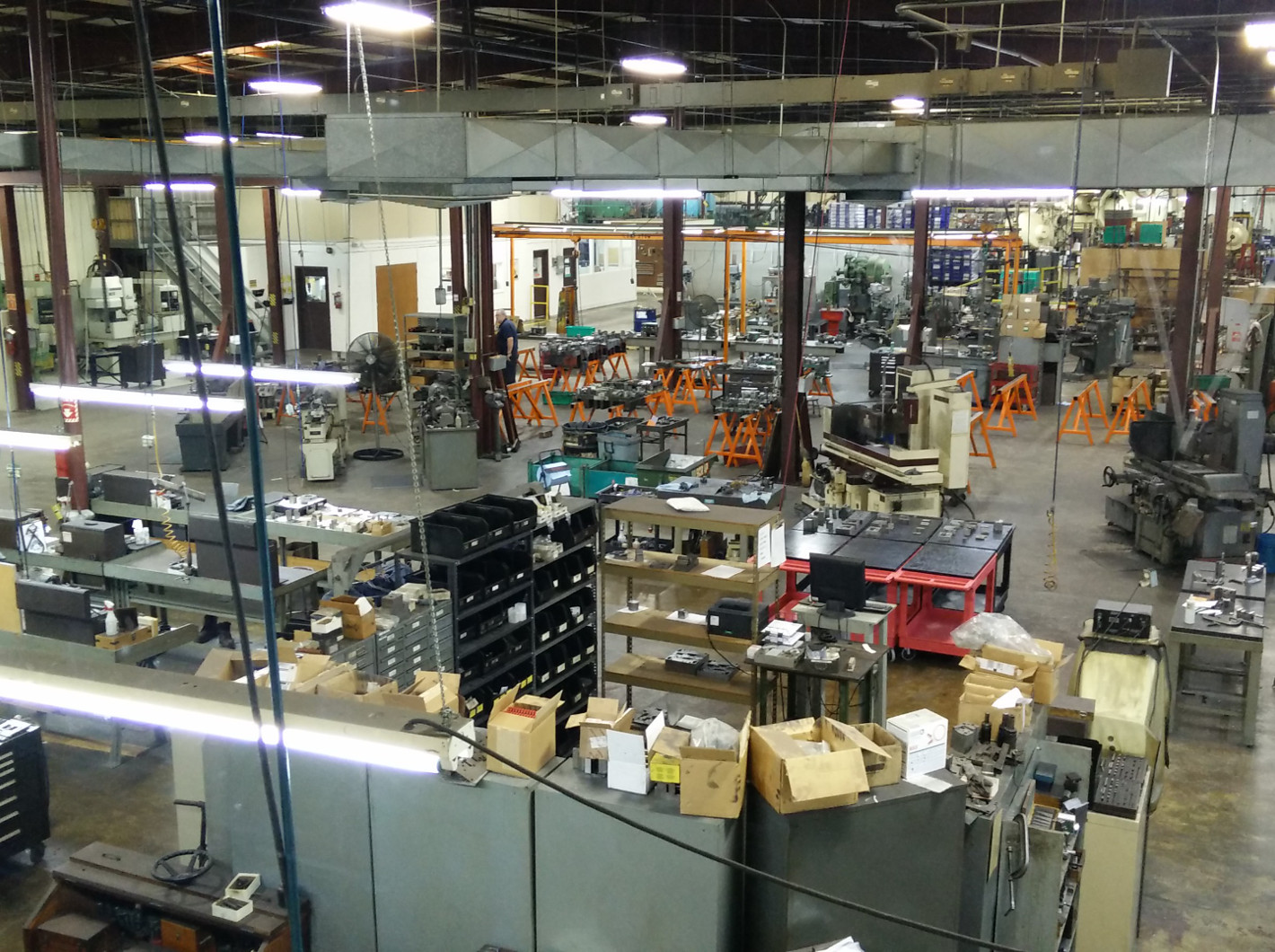 Press Shop
Precision Industries' Press Shop produces stamped components for a wide variety of industries. It has well-maintained equipment and is staffed with highly motivated and well-trained employees.
Equipment and capabilities include:
20+ automatic and secondary presses ranging from 30 to 400 tons
Secondary machining, tapping and grinding
Vibratory deburring
Plating, painting, and heat treating services are available
Preventative maintenance on dies and equipment is a joint venture between the press department staff and tool engineering. The latest electronic technology is used to provide protection to both presses and dies.
Types of parts produced by the Press Department include:
Automotive
Business machine
Electronic control
Power tool
Welding & Assembly Shop
Precision's Welding & Assembly Shop is capable of producing custom assemblies and testing of mechanical and electrical components for: Computers, printers, automobiles, copy machines, power tools, and many others.
Assembly processes are controlled using SPC quality control procedures and testing equipment traceable to the National Bureau of Standards.
Assemblies are manufactured using parts that are consigned, purchased, manufactured in house or any combination thereof.
We offer a variety of services in our assembly operation, which includes:
Resistance Welding
Ultrasonic Welding
Soldering
Secondary Machining
Tapping
Staking
Riveting
Manual Assembly
Product Finishing
(Plating, Painting, and Heat Treating services are available)
Quality
Meeting ever-increasing customer demands is no easy task. Precision Industries prides itself in the quality of the products and the continuous improvement efforts made by all employees.
Precision excels in quality due to pre-production planning, working closely with the customer, tool engineering, design engineering, and manufacturing.
Every new part, prior to production, is reviewed by tool engineering, manufacturing, and quality engineering. This allows our operators and technicians to monitor and maintain the quality of the process.
Critical process characteristics are defined and controlled to insure the quality of the product reaching the customer.
Hard gauges, fixturing, and templates insure consistency in the inspection of products.
Depending on customer requirements, sample submissions vary in detail from a single first piece layout to full AIAG PPAPs.
In-house inspection capabilities include all standard hand held gauges and instruments, plus various height gauges and custom specialized fixtures.
Precision utilizes a wide variety of instruments, such as optical comparators, CMM, hardness testers, and coating thickness testers. All instruments are included in our calibration system and are monitored carefully and regularly for optimal performance and accuracy. Outside sources are used to perform specialized tests and analysis when necessary.
Our quality staff has over 40 years of quality-related experience, utilizing technicians and quality engineering.